Here is how you can fit your Sony DRC-PC109
in the Pelican 1050 Microcase.
Everyone has their favorite equipment. Even though it has not been manufactured in a few years I really like the Sony DCR-PC109 camcorder for it's small size, quality recording and the fact that it was one of the last models with a steel frame chassis, not plastic like everything today.
You can still find this camcorder around. I found one the other day that was new in the box for a great price and snapped it up.
I've been using the Sony HC-32 for most of my helmet cam work simply because Xtreme Recall has made it easy by making a battery for the HC32 with a power output pigtail for the helmet cam... no secondary battery to deal with - nice! (They also make other batteries with power pigtails too).
The reason I stayed with the HC32 so long is because I could not fit my PC109 in the Pelican 1050 micro case used by Xtreme Recall. The simple mod below allowed me get my favorite camcorder to fit. In addition to being able to use my favorite camcorder it allowed me to also include a spare battery and tape in the waterproof case - sweet!
The only thing preventing me from the PC109 from fitting in the Pelican 1050 micro case was the diopter... the little thingy you look through if you are not using the LCD screen. Since I hardly ever use the diopter, removing it was no big deal to me.
To my pleasant surprise, all I needed to do was slide it back and remove two small retaining screws, one on each side. There were some alignment tabs on one corner and I just snipped them a little shorter.
I then packed the opening with some soft cloth and taped it closed to prevent any dust from entering... I'm sure I will put the diopter back on some day.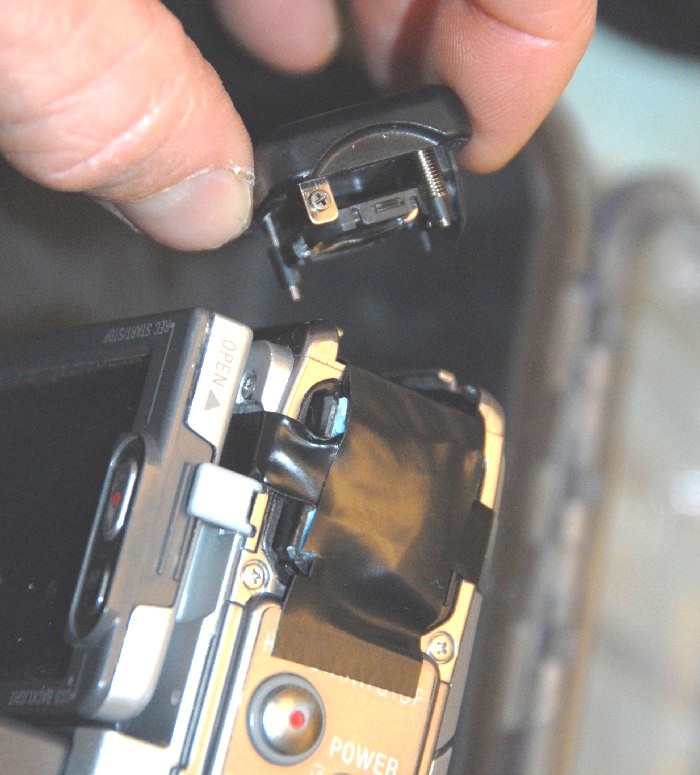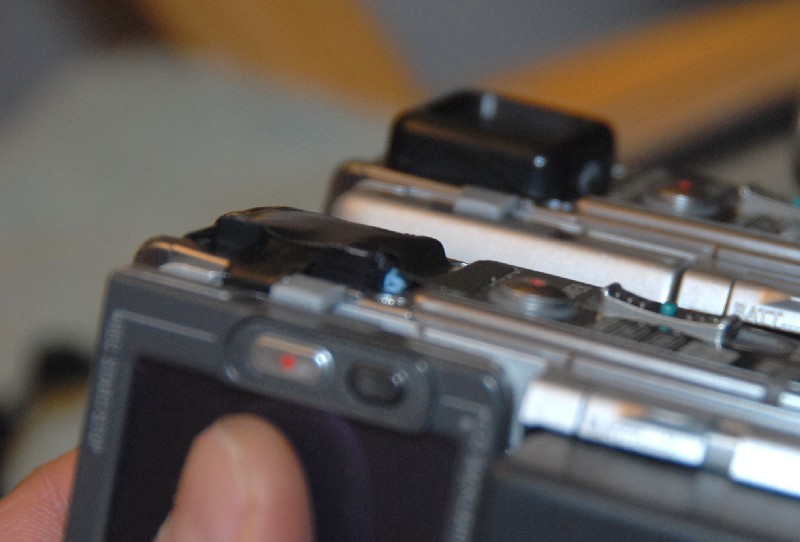 All I needed was 3/16 of an inch and my mod was enough to do it. the photo on the left shows two DCR-PC109's side by side.
Xtreme Recall does not yet carry a modified battery with the helmet cam power pigtail for the PC109 yet so I made my own. (If you do not have experience with making lithium-ion battery packs, leave it to an expert!)
Here are the results of my efforts: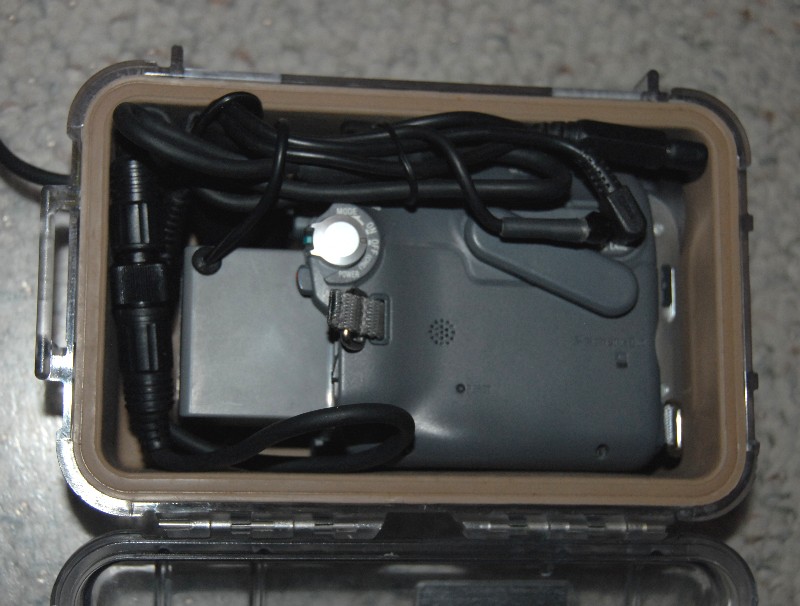 Sony HC-32 on left, DCR PC-109 on right... with room to spare.
Advantages:
I get to use my favorite camcorder in a waterproof case.

It is 1/3 smaller than the HC32.

I now have room for an extra battery and tape.

The LCD screen works well facing outward. (It's do-able on the HC32, but more difficult).
This is great for now... I just hope that media card and hard drive recording devices will come into fruition before I wear out my mini DV camcorder!