"Bump it up a notch, Hi-Def is here!"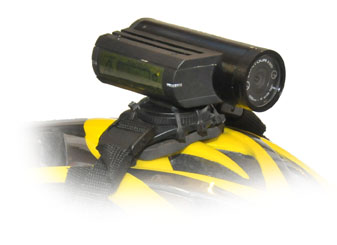 The sportcam industry was just getting going and now everyone is scrambling to catch up to the new cams from the folks at VholdR. The cam in this review is the ContourHD (HiDef @ 1280x720). I will review it's newest brother the Contour 1080p with even higher resolution (1920x1080) shortly.
I'll have to say right off that HD in these new cams is very impressive in such a small package and a very worthwhile improvement.
Because of the ContourHD's mounting system, weight and ergonomics (flat and long) I prefer to wear this cam on my helmet. The slider record switch is easy to reach and operate on a helmet (or just about anywhere for that matter).
This model has two adjustable settings: HD @ 30 frames per second with a 135 degree FOV or SD @ 60fps with a 110 degree FOV.
ContourHD - Pro's:
Large FOV - 135 in HD 90 degrees in SD - nice

Good image color and saturation (much improved over last model)

Excellent on/off slider record switch with audible beeps.

Very functional laser alignment system.

Rotatable lens (horizontal or vertical positioning)

Rechargeable LiIon battery - nice

Rail mount system good, but Velcro interface so-so (a bit loose)

Many new mounting options including universal 1/4 x 20 threaded mount

Good lighting compensation

Light weight as compared to others in this group

Functional sound (but wind noise can be a factor)

Cons:

The actual mounts (not the rails) that use Velcro as an interface is a bit loose. I'm still using converted my NiteRider helmet mount - worked awesome, sturdy and low profile. It looks now as VholdR has an almost identical setup (minus the zip ties of course!).

May have to install VholdR software or download codec to view files.

Plastic part of housing a little on the "unfinished" side and the back cover is "fiddley"

Not waterproof (but water "resistant")

Price? $250 is getting up there a bit... but then again, it's HiDef
Sample HD video HERE Sample SD mode HERE
NOTE: Editing, rendering and posting of YouTube video reduces the quality,
it will be even better when you watch it on your own TV or computer.
Take two...
In only it's second generation this cam has improved by a milestone and now opened the floodgates for the sportcam Hi-Def wars. The color saturation and wider angle lens are notable and a big plus to make this a great HiDef package.
One note: I did not care for the packaging. A clear plastic "Rubik's Cube" difficult to open and not very "green savvy". I wish they'd go back to their original simple and functional printed cardboard box packaging.
Bottom line: A little pricy but still thumbs up! (Note: they just lowered the price from $299 to $249)